HOME
PRODUCTS
FIGARO

Founed in 1920 in Seville, Spain. Figaro has become one of the leaders in the Spanish olive market.

Figaro Artichoke Heart

Once peeled, the fleshy Artichoke base can be enjoyed with hollandaise, vinegar, butter, mayonnaise, aioli, lemon juice, or other sauces.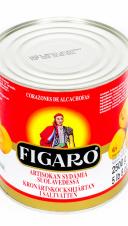 FIGARO Artichoke Heart 2.5kg
Add to Cart
© EuroTreat . All rights reserved.