HOME
PRODUCTS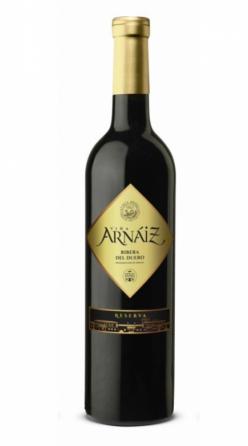 VINA ARNAIZ Reserva 2012 750ml
Product Code: XXX
Availability: In Stock
Size / Packing: 750ml
Grape type: Tempranillo, Cabernet Sauvignon, Merlot
Viña Arnáiz Reserva is a wine of high intensity cherry red color, with beautiful violet trim indicating its long, controlled maceration. Notes of wild fruit and spices can be appreciated, with a vanilla base derived from its perfectly integrated aging in barrel.
Its palate is full of nuances, with a pitch of intensity. Again we find a fruity finish accompanied by the maturity of sweet tannins integrated in the wine's structure, providing elegance and a long finish.
This Vina Arnaiz goes perfectly with red meat and roasts.
§ Robert Parker - 91 pts
§ Stephen Tanzer International Wine Cellar - 90 pts
§ Wine Enthusiast - 88 pts
§ Gold Medal, "International Wine and Spirits Competition 2010", London, UK
§ "Best Wine Award" voted by 31 world airlines, by Global Traveler's magazine
"Under the law of Hong Kong, intoxicating liquor must not be sold or supplied to a minor in the course of business "
© EuroTreat . All rights reserved.