HOME
PRODUCTS
Olive Oil / Sunflower Oil/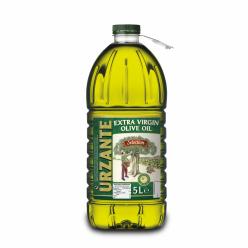 URZANTE Extra Virgin Olive Oil 5L
Product Code: OL3
Availability: In Stock
Size / Packing: 5 litre
Urzante Extra Virgin Olive Oil made from the best perfectly ripe olives. Ideal for dressings, seasonings or simply on a slice of bread.
Highly prestigious oil made by selecting our best production. It masterfully balances olive varieties including Arbequina (fruity and aromatic), Hojiblanca (bringing some pleasant heat) and Verdial (delicate), producing oil with an unmistakable flavour.

Furthermore, our exclusive coupage contains 50% Arbequina, the most highly prized variety, bringing more aroma and flavour.

TASTE NOTE

Balanced, slightly almond-flavoured taste with touches of almond and green apple.
© EuroTreat . All rights reserved.