HOME
PRODUCTS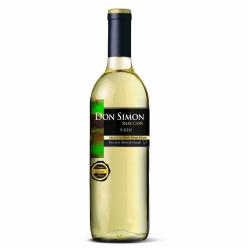 DON SIMON Selection White Wine 750ml
Product Code: TW2
Availability: In Stock
Size / Packing: 750ml
Grape type: Airen
Tasting note: It is a pale yellow, very bright, with green tones. It has fruity aromas of medium intensity (apple) on a background of vegetal notes (hay). On the mouth, is balanced and acid, with a contrast end, slightly bitter.
We recommend to serve this Don Simon Selection White wine cold, at a temperature between 4 and 6º C, with lighy dishes (rice, fish and seafood).
© EuroTreat . All rights reserved.