HOME
PRODUCTS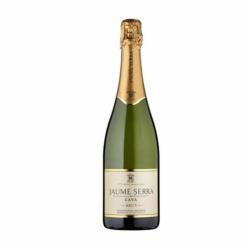 JAUME SERRA Cava Brut 750ml
Product Code: CA1
Availability: In Stock
Size / Packing: 750ml
Grape type: Macabeo, Xarel·lo, Parellada
Tasting note: It is a pale yellow cava with greenish hues, clean and crystalline with fine, integrated bubbles that emerge slowly forming a crown. The nose presents good aromatic intensity that is very fresh and fruity intensity but has aging notes. Well-structured on the palate, smooth and balanced. The retronasal sensations clean.
This cava is well suited for all types of fish, but it pairs well with a wide range of dishes.
Rating and Award
"Best of the Best Sparkling Wine Award" & "Gold Award 2012",

"

Restaurant & Bar Hong Kong House Wine Awards 2012

", Hong Kong
"Under the law of Hong Kong, intoxicating liquor must not be sold or supplied to a minor in the course of business "
© EuroTreat . All rights reserved.